Stephen Lander Dental Designs is delighted to have been nominated for and won the Private Dentistry "Best Dental Laboratory (North) 2011″ award. This is a highly prestigious award and our success in 2011 was perhaps even sweeter, having been nominated consistently in recent years without success.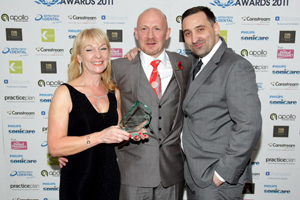 The award was presented to us at a glittering ceremony at the Intercontinental Hotel in London. Hundreds of dental professionals attended the annual event, which is the highlight of the dental sector's calendar.
The judging panel, each member highly respected in the dental profession, evaluated submissions regarding the entrants' case for the awards across twenty one categories. These included – most attractive dental practice, best dental team, best implant practice – and our own best dental laboratory North.
Commendation for Dental Product Quality, Innovation & Training
In particular, Stephen Lander Dental Designs were commended for the high quality of our dental design work, our innovative approach to cosmetic dentistry and also our staff training programme.
Please visit our Awards page where Stephen acknowledged the huge effort contributed by staff and also associates in the profession, in helping to win this huge accolade.
New Starter Claire Andrews
Also in this blog post, we would like to welcome our new starter, Claire Andrews. Claire joins us after graduating, following a fruitful career in the NHS. Claire has a long held desire to specialize in cosmetic dentistry and is progressing very well in her training within Stephen Lander Dental Designs. Claire will write our next blog post and will contribute regularly to the blog in future, as part of her training programme.